Background and Disclaimers: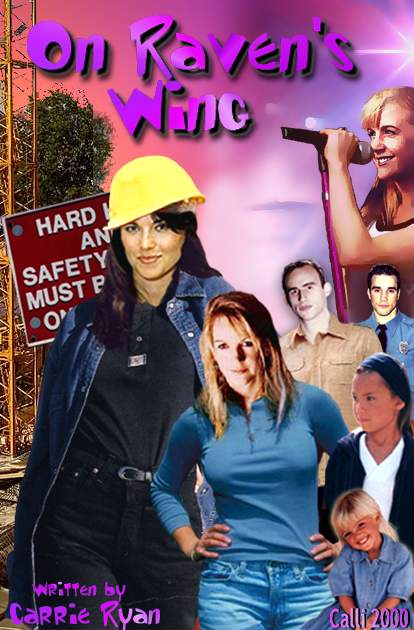 Here it is. My first attempt at fan-fic. I started writing "Raven" about a year ago to pass the time while working out of town. My mother always told me I had an active imagination and here's a sample of it.
The story is a work in progress. It's about two women who's paths happen to cross by chance AND the help of a very determined little girl. Their lives will come full circle along with many others they encounter.
"A story of two very charismatic women who will soon become entrenched in your hearts. Amanda Peters, the beautiful, tender school teacher and mother of her precious baby daughter, does not know what's in her future when Raven Stevens joins her class. For Raven is the much loved "daughter" of Jake, a tall gorgeous, construction worker. When their paths meet will Amanda come to realize what her ex husband and his mother already know? This is a wonderful story where all the characters come alive with their warmth, fun and friendships."
There are moments where you will laugh (watch those beverages around the keyboards), you'll cry (get those hankies ready) either way, hopefully, you will feel.
Yes, they look like people we all know and love but, their lives are their own. They belong to themselves. They just refuse to leave my head until I've told their story. I know most of it but, they tell me a little more each day. Sometimes at the most inconvenient moments; while I'm at work, sleeping, in the shower, at band practice... whenever they decide to pop up and say "hello". Wherever they're taking me, it's a hell of a ride and I hope you'll stick around for it.
Cover Disclaimer
The cover art was done by my good friend, Calli. Check out her website, Calli's Creations. I promise you won't be disappointed. Thanks, Calli. I still say you're the sh*t. OOPS, Can I say that here?
Character Disclaimer
Most of the characters in the story are very good friends of mine. I could not have done this without their support. Some of their names have been slightly modified (i.e. Officer Jameson & Jason). The rest are there so you should have absolutely no trouble picking yourself out. And as for the two mentioned earlier? Like I said, they belong to themselves.
Language Disclaimer
Well, of course there's language. Otherwise, there would be no story. There is some foul language but nothing too severe. At least not yet. I haven't managed to tick off Tall, Dark and Amazing yet so, we'll see.
Sexual Content Disclaimer
Now, what do you think? This is an alternative piece of fiction so, of course it'll be in there. Nothing graphic though, I'm afraid. I can read it but, I can't write it. Then again, who knows? Maybe a few chapters down the road. This story is about two women, of consenting age, who meet and fall in love. If you are underage...come back in a few years. If this is illegal where you live, please move as quickly as possible.
Thank-You Disclaimer
Thanks to Calli for providing me with the incredible pics & cover. LT my incredible Beta Reader. You've been a great creative influence. Thanks for kicking me in the ass a few times to keep me going. Hi Frankie! Who loves you, Baby?! T., How YOU doin? My other creative influence. I see they've been whispering in your ear, too. Just remember, I know where you live and I know where you sleep. AND with whom... ;-) Karen, my beta guinea pig and Kris , my idol. To my g/f, Ang who I'm sure will never read this, ehh, I guess I love you anyway. :-) I love you guys, VERY MUCH!
Thanks also go out to XWP Fanatic, T.Novan & Tonya Muir. It was the three of you getting together to write a weekly series called "Exposure" that brought me together with my friends at the OX Corral. Thank you. Keep up the good work Fanatic & TN. KF, get the tip jar ready. Luv, I know you have some experiment lined up... See you guys at the corral later.
Last but definitely not least, Thanks to Teresa, for not getting too miffed at me for writing this instead of some new songs. Stephanie, thanks for letting me borrow your voice for Mandy. The Gods know mine couldn't carry it alone. How else could she be "The Woman Of A Thousand Voices" if she only had one?... :-)
The "Are We There, Yet?" Disclaimer
OK, enough babbling... here we go. On to Part 1!
Email me and let me know what you think. Constructive criticism is always welcome. dar_ryan@email.com