Hmmm... Who am I? Well, That's a loaded question.
My name is Carrie. Or Dar (as it's been for over 3 1/2 years now. Crazy dream. LONG story)
I live in Virginia. About 20 minutes from Virginia Beach. Very nice. But, if you live here, you get tired of it. I work for a Data Communications company, installing computer and telephone networks. Another reason for the nickname "Dar".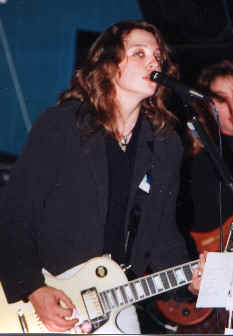 The only reason I have my day job, is to support my night job. Playing in a band. Well, it's also nice to be able to pay my rent, too. I've only been alive 6 years longer than I've been playing guitar. I've been writing longer than that. I play guitar, bass, piano & drums. I've been singing in public since I was 3. I've been a telecommunications tech for, going on, 6 years now. I do this so I can buy more guitars... :-)
As I said before, I live here in Virginia with my guitars, my extensive Xena collection and my 4 cats. Oh yeah, can't forget about the g/f. she might not like that...<bg>
The cats... All in some way named after someone on my favorite show, Xena: Warrior Princess. Ares, Hudson, Tigger & Ash.
Actually, Ares was named after the wolf cub puppy in a story by my favorite fanfic author, Missy Good. Hudson, after everyone's favorite blonde psycho, Callisto
actress, Hudson Leick. Tigger, there's a good story. When my g/f walked into our den one morning when he was only 5 weeks old, she found him sleeping between the legs of my Xena stand-up. I believe her comment was something to the extent of, "Sleeping between Xena's legs, It HAS to be Gabrielle." So we compromised. Tigger Gabriel. And last but not least, Ash. Named after my favorite actor's most memorable roll. Bruce Campbell as "Ash" in the "Evil Dead" trilogy..
Ares is the brat. Hudson is the trouble maker (must be something in the name...<bg>) Tigg is the
little man and Ash is the big man.

We also have a Tibetan Mastiff puppy, Pokey (her registered name is Psyche)
They rule the house and they know it. They are also spoiled rotten.
OK, Music. I've been in the same band, or some variation there of, for the last 7 years. The band was called MY SISTER. We have decided to change it. To what? We have no idea yet. We recorded our first album "Pocket Rocket"

in 1995. We received extensive radio play afterwards.

The band has gone through several lineup changes in the last 7 years. Two factors always remain: myself and my best friend Teresa. I play lead guitar and sing lead vocals. I gave up guitar for about a year and a half and played bass when we had an INCREDIBLE guitarist, Annie Johnson, come aboard. I'd say at least half of the sound bytes you will find on this site for "Corduroy", will be of MS playing over the last 3 years or so. The other half, will be sound bytes of my good friends in a Jersey based band, Sugarbelly.
Let's see... what else? I love just about any sport imaginable. I think Hockey is the greatest game in the world. Thanks to my brother, I've been a devout Detroit fan since I was knee-high to a flea. As a matter of fact, Hockey is the only sport to where I don't follow a NY or NJ team. NY Giants, NY KNICKS, NY Yankees, and so on and so forth. I love dirt bikes and motorcycles. I've also collected knives for as long as I can remember. Other than that, I'm harmless. So,... that's about it. Thanks for checking in!
Teresa & Carrie My Sister 1995
Carrie & Former bassist Lesa My Sister 1994